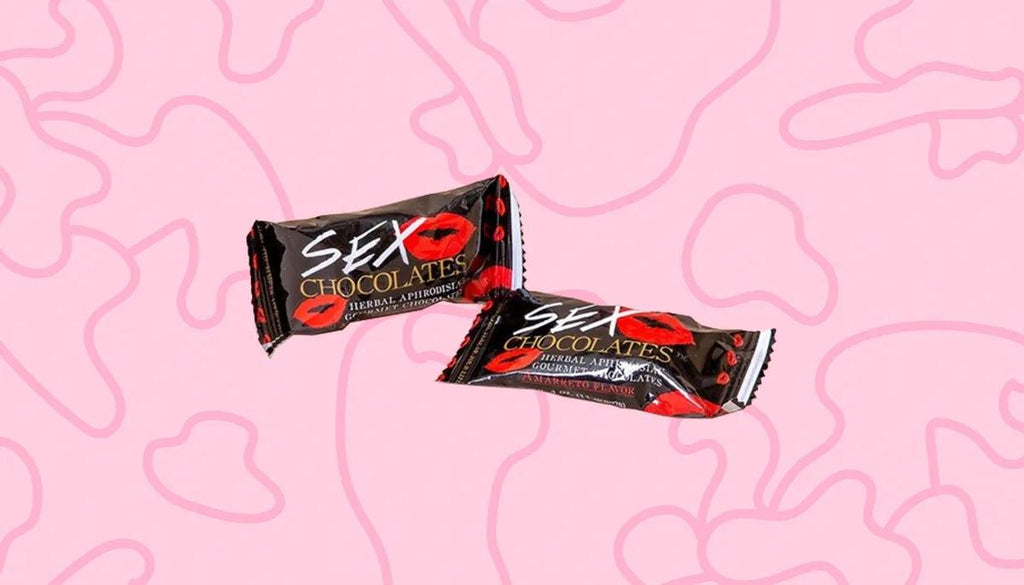 Sweet And Sexy.
These gourmet chocolates are chock full of aphrodisiac herbs to boost arousal and sensitivity. This specific blend is designed to enhance libido and improve sensation with a subtle amaretto flavor.

Need a little pick-me-up before playtime starts? Try our best selling Sex Chocolates! One gives you a boost of energy, two gets you in the mood, and three send you over the edge.  

Composed of aphrodisiac ingredients that are both flavorful and functional for all genders.
Sexually enhancing chocolate supplement designed and formulated for two.
"Sex Chocolate blends historically horny ingredients into the mix to give their  chocolate a little more… oomph."
Stimulates
Blood Flow*
Enhances
Performance*
Increases
Sex Drive*
We've Got The Formula 
60% Cocoa

Natural aphrodisiac powered by caffeine and a touch of sweetness.*

 


Epimedium

Libido-boosting herb containing icariin, known for igniting desire and strengthening sensation.*

Maca Root

Stabilizer which helps to
support energy, blood flow,
and healthy sexual function.*

 


DHEA

Essential in activating sex hormones testosterone and estrogen in both the male and female body.*

 


We recommend taking Sex Chocolate with your partner at least 30 minutes before intimacy for best results. Please note that while some may not notice effects prior to sex, Tabs works in the background to maximize your experience during intercourse.

While duration varies from person to person, effects may last anywhere from 1 - 3 hours.