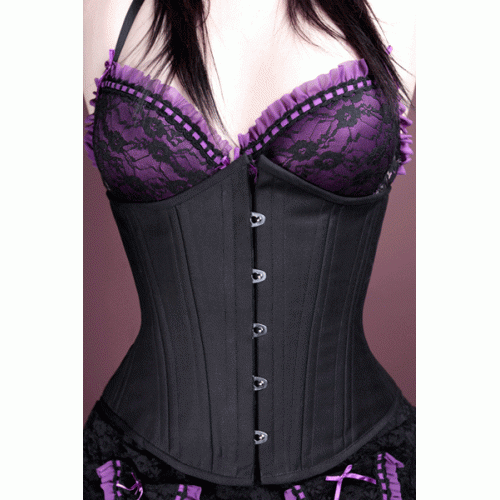 BLACK SATIN UNDERBUST WAIST CINCHER
 From the black tie to the little black dress, so many foundations of fashion start with basic black. But with impeccable design and flawless execution, as corsets go, our Black Satin Underbust Corset may be black, but it's anything but basic. Whether as a shaper, lingerie, costume or special occasion piece, the underbust corset is absolutely fundamental. The underbust design is the singular, classic execution of this style of garment, resting just beneath and lifting the bust while sculpting a more slender, seductive silhouette through maximum compression.
As you size down, simply tighten the laces. Wear it 8-10 hours a day for 30 days to experience long term reduction of 1-4 inches. Wear it as a foundational piece underneath virtually any everyday day fashion or flaunt it over something skintight. From the light of day to the black of night, no matter where you wear it, our Black Cashmere Underbust Corset is one of the basics without which no collection is complete.
RESULTS
Lose 1-4 inches in 30 days!
Corrected, confident posture
Slimmed, shaped midsection
Raised bustline resulting in fuller looking breasts
Curvier, shaped silhouette
 Enhance your feminine hourglass shape with this sexy black waist cincher. The slimming waist cincher features a lace-up back to ensure perfect fit and metal boning. Wear the waist cincher with your sexiest mini skirts or lingerie looks.