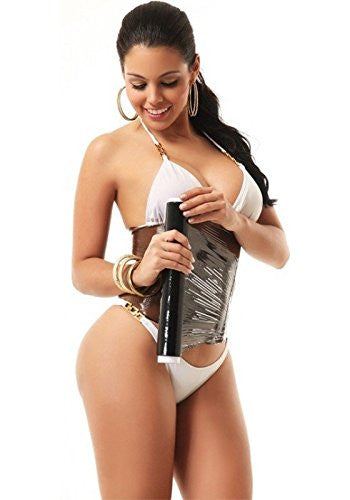 Osmotic Body Wrap
Available in 50M, 100M, 200M
 Compression wraps are great to use for a total body transformation. Use on arms, thighs, stomach and/or legs. This compression wrap works as a thermogenic wrap tackling cellulite and fatty cells. The combination and daily use of any of our creams or gels and compression wrap stimulates diffusion and osmosis in the organism. The compression pressure opens the lymph channels, so liquefied metabolic waste products and cell toxins can flow out of the problem zones.
Ultimate Results:
Apply firming gel or cream, compression wrap and shaper during your workouts. This will allow the cream to penetrate problematic areas as the compression work as a sealant where cream will not evaporate. Once cream and compression wrap is applied simply put on your Shaper garment doing so will add extra compression, tightening your abdominal area while creating that hourglass silhouette.
RESULTS:
detoxifies
promotes weight loss
FEATURES
organic compounds
overnight application
anti-inflammatory
Osmotic wrap is to be used with any of our body cream, firming cream and more to speed up the process in burning fat tissue Use it with our corsets for better results.
How to use;
-Apply firming gel or caffeine cream
-Wrap Osmotic clear wrap around your waist
-Put on your cincher.