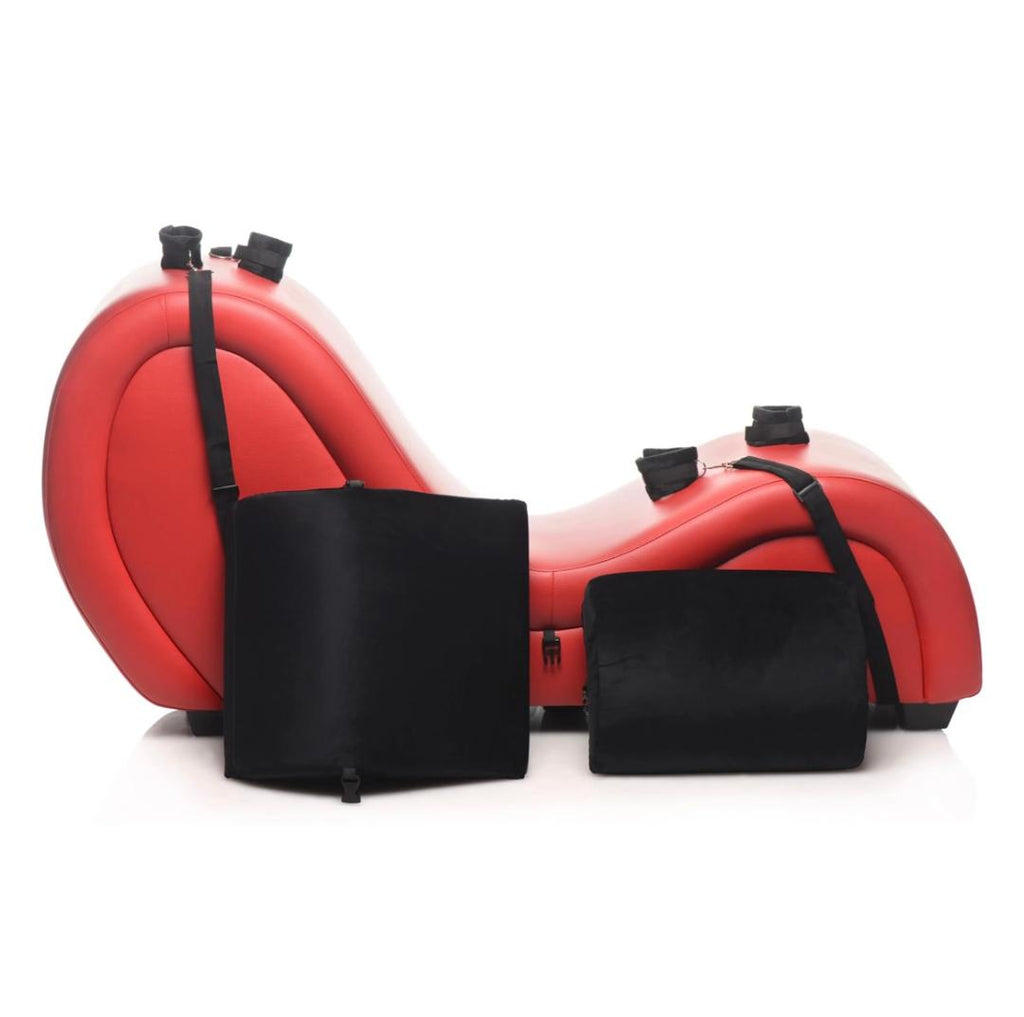 Want your very own sex dungeon at home but don't have the floor room to spare? This kinky sex chaise longue breaks down into two pieces so you can store it when not in use! Tuck it away in a room, closet, or storage. Break it down to easily transport it from one place to the next! Never stress about fitting that couch through the tight hallway, stairwell or door again! Just unhook the metal brackets and take it a piece at a time! Built out of durable wood and metal, it's covered with Vegan leather. This faux leather is easy to clean and is smooth and seamless. The couch is comfortable and ergonomically built so you can explore more positions than ever before! Included with the couch are two Love Pillows that act as support aids for your head or chest at the top and allow comfortable sitting or kneeling when placed in the curve of the couch. Restrain your lover to the couch with the soft fleece wrist and ankle cuffs! They each connect via nylon straps to the base of the couch and are easy to adjust and remove. Assembly is easy; simply follow the directions included with the couch. Wash off the couch after a sexy scene with warm water and mild soap. Use a soft cloth to wipe it clean.
You've set up the couch, connected the two pieces, and set it exactly where you want it. There's plenty of room around it to stand and deliver any kind of devious and kinky sensation you want to your eager submissive lover. As you invite them to start by kneeling, you place the pillow beneath their knees and their hands on top of the head rest. Their backside is facing you and you begin to spank them and warm them up. Their booty begins to turn pink from the attention and you move to their thighs. Switching to floggers you enjoy as they arch their back in blissful euphoria. You have them turn around on their back and restrain their hands and feet with the soft, fleece restraints. A ball gag goes in their mouth and you look deep into their eyes and read the excitement and desire in them. As you begin to play with their nipples, applying nipple clamps and gently batting at them and slapping them once they are on you smile as you hear the muffled moans. Finally, you have them right where you want them and you climb on top!
Measurements
: Overall: 60 inches Length x 17 inches Width x 30 inches Height. Straps adjust up to 50 inches in length. Cuffs adjust from 5 inches to 14 inches circumference.
Headrest: 18.5 inches Length x 12.2 inches Width x 4 inches Height. Support pillow: 18.5 inches Length x 20 inches Width x 6.7 inches Height.
Max weight limit: 440 lbs
Materials
: Wood, Vegan leather, polyester, metal
Color
: Black
Note
: Read instructions carefully to ensure safe assembly. Wash with warm water and mild soap. Keep out of direct sunlight. Assembly will require a screwdriver (not included).
Key Features:
Detachable: This kinky couch detaches to break down into 2 separate pieces so you can more easily store it in a closet, back room or storage area. It also makes it easier to transport to events! The two ends of the couch detach via the brackets that hook together.
Ergonomic Sex!: This couch comes with two cushions, one for the head and the other for kneeling or sitting on. Combine these support aids with the shape of the couch for an awesome upgrade in comfortable, ergonomic sex! Add more positions into your sex life with no trouble at all!
Soft Restraints: Included with the couch are a pair of wrist and ankle restraints! These soft fleece restraints are easy to use, easily adjustable and attach to nylon straps that attach to the base of the couch!
Vegan Leather: This vegan friendly, smooth faux leather is easy to clean.
Durable and Comfortable: This sturdy, wood and metal couch is covered with cushions and has supportive pillows to make your long scenes comfy! It can also handle up to 440 lbs!