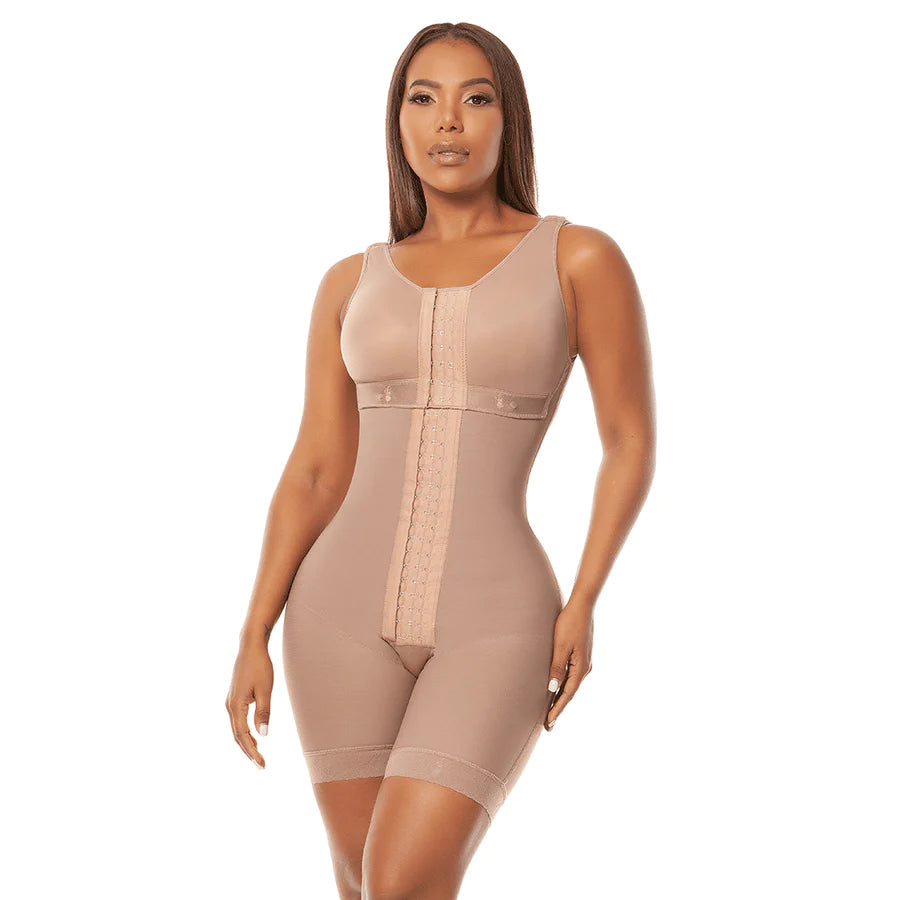 - Smart compression fabrics that provide a perfect shape (Powernet with UV protection)
- Front closure with 3-position adjustable hooks
- Wireless soft cups with full coverage to the bust area
- Short style girdle with anti-slip silicone lace
- Padded shoulder system that allows maximum comfort
- Smooth underarm and back bulges
- Slims waistlines, tummy, and thighs
- Full-back coverage
- Double abdominal reinforcement.
- Natural Booty Lifting System
- Wide perineal space for maximum comfort
- Internal lining in Lycra with cool-touch and Aloe Vera microcapsules that moisturize the skin
PRODUCT DETAILS
Ideal garment for post-partum and post-surgical use. This high compression garment helps with the recovery process after surgery and gives to your body a perfect shape. Its smart fabrics with Powernet provide the exact compression your body needs after any cosmetic procedure to ensure a proper recovery and to reach your expectations. It assists reducing inflammation, improves healing and releases pain. A unique girdle with booty enhancement shaper, and anti-slip leg bands to keep the garment in place and avoid indentations. Semi invisible closures and flat seams not showing under clothes. Made out of special fabrics with cool-touch technology to keep you fresh and comfy the whole time you wear it, and with Aloe Vera microcapsules to moisturize the skin. Internal lining in Lycra, hypoallergenic fittings, and Powernet with UV protection. If you are undergoing an aesthetic surgery this garment is the best choice for the recovery stage, or if you are a mommy don't wait to get back your pre-baby body and to feel sexy and confident again. See the wide range of different styles we offer and choose the best one according to your needs.
Tejidos de compresión inteligentes que brindan óptimo moldeo en tu cuerpo (powernet con protección uv)
Sistema de abrochaduras continua en tres hileras ajustable
Faja tipo short con silicona que evita que la prenda se recoja
Doble refuerzo abdominal
Sistema levanta gluteos natural
Sistema de abrochadura continua en tres posiciones para mayor comodidad
Copas suaves sin varilla, con excelente cubrimiento del busto
Amplio espacio perineal para mayor comodidad
COLORES: BEIGE, COCOA, NEGRO