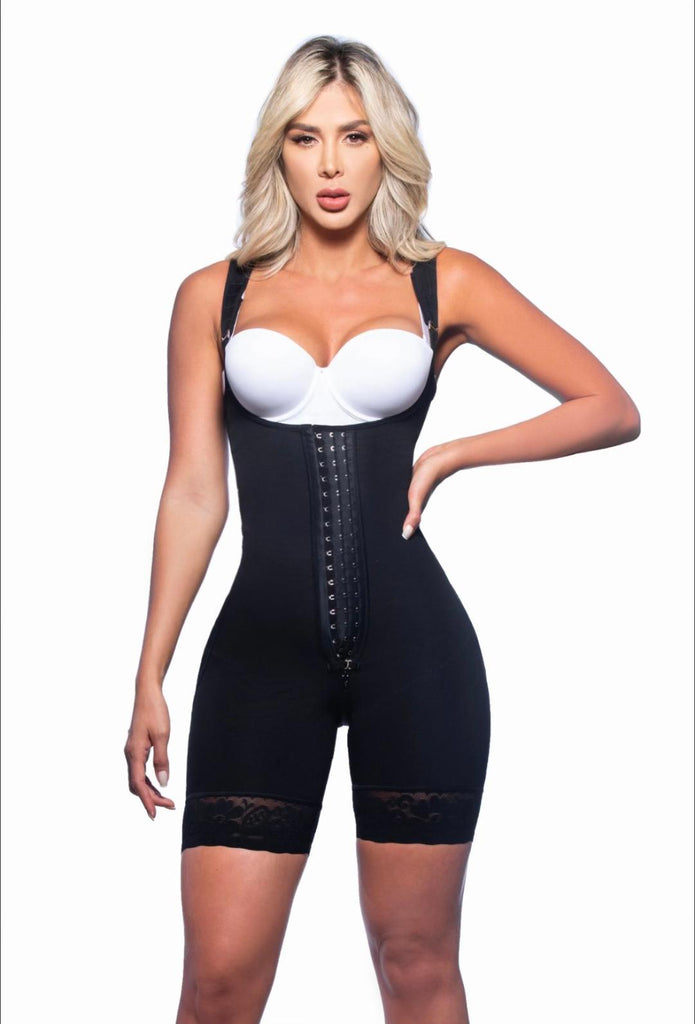 Hourglass Girdle
Ideal to Maximize your results after any surgery. Reduces Inflammation and post surgical fibrosis.  Controls underarm rolls, triple control on abdomen. Enhances buttocks and lifts breast.  
 Invisible glute design is not noticeable in tight clothes such as Jeans, tights, etc. It substantially improves body posture. Continuous and correct use helps to lose weight.  Wider Hips Smaller Waist Design.
Recommended for recovery in aesthetic procedures like:

Lipectomy
Lipoinjection in buttocks
Tummy Tuck
Ideal for defining waist, enhancing butt and hips.
Corrects your posture.
Ideal for women with natural bodies who want to maximize their curves.
Features:
Narrow Straps
Mid thigh/ knee length
Decorative lace with silicone
3 levels of adjustment in the front
4 levels of adjustment in shoulders
Zipper in the perineal area
Powernet in the exterior
Cotton in the interior
No pads or fillings
Beneficios:
Ideal para uso diario
Faja reductora y moldeadora
Recomendada para Post-Parto y Post-Quirurgica
Control de abdomen
Moldea y reduce cintura
Moldea y levanta gluteos
Tirantes ajustables
3 Niveles de ganchos para ajustar compression
Nivel de compression: Alto
MADE IN COLOMBIA