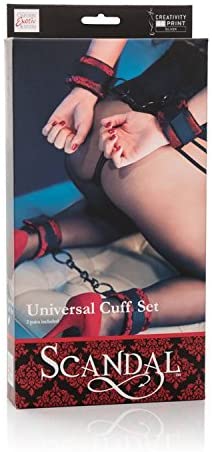 ENHANCE ECSTASY: Indulge in sexy submissive play with the luxurious and versatile Scandal Universal Cuff Set with 4 adjustable Velcro closures cuffs and easy-to-use universal clasps to hold you tightly while your partner fulfills your every desire.

LUXURIOUS BONDAGE: Get lost in sensational submission and leave yourself at the mercy of your lover's erotic whims. These plushy, soft cuffs are made from a high-quality brocade fabric with universal clasps and rings for endlessly creative pleasure play.

VERSATILE USE: Each of the four cuffs is equipped with completely adjustable Velcro straps that can be used on your wrist or ankles for versatile bondage play. Clasps the multi-use cuffs to each other or to the bedposts and relinquish full control to your lover.

HIGH-QUALITY MATERIALS: Four exotic cuffs measure 14" (35.5 cm) in circumference with a plush inner layer, a high-quality brocade outer layer, and Velcro enclosures. With universal clasps and nickel-free iron rings for versatile use.

CARE INSTRUCTIONS: Enjoy easy maintenance by machine wash regularly or hand wash in warm water and hang dry. Store in a cool, dry location.