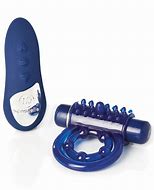 The amazingly powerful, yet discreet and quiet NU Sensuelle Remote control 15-Function Bullet Cock Ring that is USB Rechargeable. The ring features a multi function, powerful, fully rechargeable bullet, and is made form high quality body safe silicone. Designed to fit over the shaft of the penis, this bullet ring provides powerful stimulation to the wearer, and is designed to be work during penetration, giving further stimulation to your partner.
The bullet is easily removed from the soft silicone sleeve for recharging and cleaning, but is securely held in place during use. The body safe soft silicone is highly stretchable, so will fit most men, and provides vibration stimulation as well as acting as a standard cock ring, helping to provide strong, longer lasting erections. You can easily scroll through the 15 stimulation functions by pressing the conveniently placed button located on the side of the bullet.
After use remove the bullet and clean with warm water and a mild soap or recommended toy cleaner. The bullet is water resistant, so do not submerse in water, clean with a cloth and water splash. Ensure the item is dry before storing in a cool dry location out of direct sunlight.