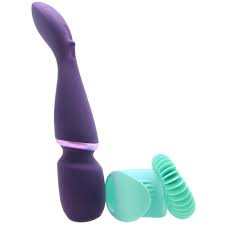 Anyone who's lucky enough to have experienced a close, personal relationship with We-Vibe will already know what we're about to say, but we'll say it again for all you stimulation seekers who might need to hear it: We-Vibe has pleasure for couples and solo artists on lock. Truly. But the creation of superior sexiness never sleeps! We-Vibe designers have dreamed up a brand new way to deliver ultimate satisfaction - Wand.

Wand's shape is comfortably familiar at the core, showcasing a silky swollen had that flexes subtly on its neck. The handle, on the other, er, hand, is refreshingly curvy, created to be ergonomic and comfortable for you or your partner to manage, maneuver, and control. Take hold to feel the balanced weightiness and note how close the controls are to your/their fingers, no matter how Wand is being wielded.
Speaking of controls, Wand is bragging some great ones. It comes pre-packed with 10 perfect modes of vibration, each adjustable in terms of intensity. Seamless speed increases and decreases are possible courtesy of a dimmer-switch style slider - push up or down to customize, or simply hold it in place for near-instant maximum and minimum power options. To change up the vibration mode, touch the function button just above the + slider.
Another very noteworthy new Wand feature is the unique Smart Silence technology. Once Wand is powered on, vibration will automatically activate when the plushy silicone head comes into close contact with your/their skin. When pulled away from the body, it stops automatically, but starts back up (at the same intensity, of course!) when brought back close. 
So, you've already got tons of possible play potential coming your way with Wand, but a few more can't hurt, right? Right! You're going to adore the uniquely plushy touch of the default purple silicone head, but if and when you're in the mood for something a little or a lot different, reach for one of two included seafoam green silicone attachments. Both slip over Wand's sweetly swollen tip to delivers very different sensations. The smoother, wider sleeve transforms your Wand into a stroker, perfect for sharing with a favorite penis owner, while the other creates fluttery, tickly, more focused vibrations.