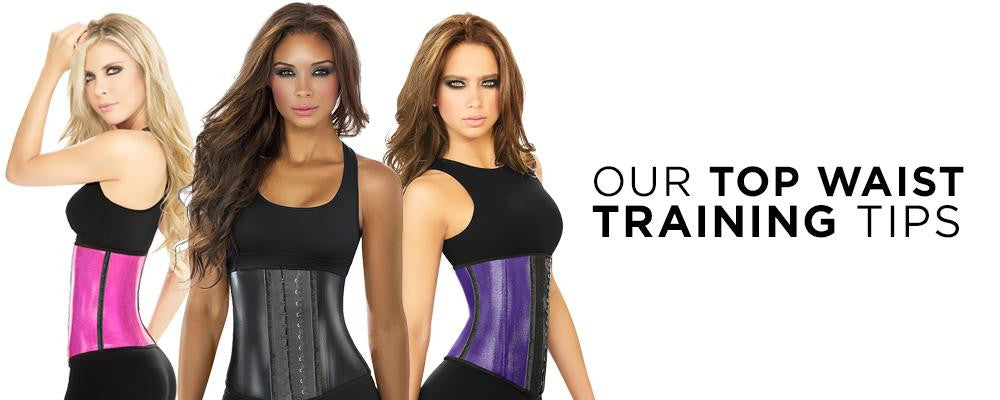 Around here we love waist training! If you're new, getting started can be a little overwhelming. We thought it would be helpful to compile all of our best waist training tips in one place. Whether you're new to waist training or just need a little advice to make sure you're getting the most out of it, there's something here for you.
So, let's dig in!
Choosing the Best Waist Trainer for You
The first step to getting the most out of waist training is making sure that you're picking the right one for you. Some questions to consider when selecting the ideal  waist trainer should be:
Body type: are you tall, short, curvy or narrow-figured? Knowing your own shape and what type of shaping and support you need is important to helping you select the best option.
Petite figures 

: you may need a shorter waist trainer, so that it doesn't sit uncomfortably on your hips.

Tall 

and

plus-size

 figures: you may need a longer waist trainer that provides more coverage on the abdomen, or a style that runs in larger sizes.
Curvy figures: if you need extra support in your bust or coverage for your back, consider a

vest style waist trainer.

 If you have a large bust-to-waist ratio, make sure you get straps that are adjustable so that you still get maximum compression around your waist and optimal support for your back.
Waist training goals: are you trying to lose a lot of weight (following a pregnancy for example)? Do you want to wear a waist trainer when you work out? Are you planning on wearing a waist trainer daily?
If you plan on losing a lot of weight, we recommend either a

three row hook eye 

waist trainer or a

lace up corset

 so that you have more room to size down before replacing your waist trainer.
We highly recommend using a waist trainer during your workouts to maximize your efforts. Be sure to use a

workout band 

 designed specifically to hold up during intense movements.
If you plan on wearing a waist trainer daily, we highly recommend rotating at least two through your wardrobe. For some women it works to alternate between a workout band and

everyday trainer

 although others may also prefer to have several colors and styles to choose from.
Style and material: do you have a sensitivity to latex? Do you like bright prints and colors? Would you prefer a lace-up style?
Our most popular waist trainers are constructed from latex, due to the material's effectiveness in providing maximum compression for long hours of use. If you have a sensitivity or dislike of latex, you may prefer a latex-free cincher or steel-boned corset.

There are endless styles available when it comes to colors and prints. Most of our brightly colored waist trainers are designed for workouts (great for showing off at the gym), but some women simply prefer wearing them every day because they are so much fun. However, if you're wearing light colored clothes, you may prefer the more subtle black or nude options.
Some women prefer corseting as their type of waist training—using a Steel-Bone corset instead of a latex waist cincher. It's really a matter of preference…a corset can be more durable and may provide more dramatic results when you're wearing it. It's also perfectly customizable since you can tighten it to the exact compression you want.
Getting Your Size Right
Some of the most frequent questions we get about waist training are about sizing. We've carefully curated and tested all of our waist trainers and know all the nuances when it comes to sizing and fit. So even if you can't try one on before ordering, you can ensure that you get your size right if you follow these essential tips:
Make sure you have the right style for your needs: sometimes customers mistakenly think they have a sizing issue, when really the issue is more with the style they have selected. Find the right type of garment first. Then be sure to get the right size.
Take accurate measurements: it's vitally important that you take measurements whenever you are ready to order a waist trainer, even if you think you know your size. Here's how to get it right:
Use a vinyl or fabric tape measure. Anything else just won't be as accurate.

Your most important measurement is your waist. You might find on some shapewear garments that you need to take measurements for the bust, hips and waist, but for waist trainers, the waist is the only measurement that really matters.

Measure the narrowest part of your waist, which is about two inches above your belly button—where there is a natural bend in your torso.

Be sure you're holding the tape measure level when you take your measurement. We recommend doing it in front of the mirror.

The tape should lie flat against your skin or a narrow tank. Don't pull it so tight that you can't slip a finger underneath, and don't let it be loose so that it droops. 
Follow our sizing charts exactly. We have tested every garment and adjusted the size charts accordingly. Do not simply rely on what you think your size is, as each brand can vary. Take your waist measurement and then line it up according to a specific garment's chart. Note that some waist trainers have number sizes, but these numbers aren't the same as your waist measurement. For example, on most steel-boned corsets, the number is 3–4 less than your waist measurement in inches.
Remember: a smaller size does not mean better results! Some people mistakenly think that getting a size smaller will make them look better. But you'll be in for a shock; when a waist trainer is too small, the results are extremely unflattering and uncomfortable. Stick to your size; and when in doubt (or in between sizes), go with the bigger size. Otherwise you risk having a "spillover" effect, being uncomfortable, and potentially damaging the garment.
Trying Your Waist Trainer On
If you've never worn a waist trainer before, you might be in for a bit of a surprise when you try it on for the first time! When it fits correctly, a waist trainer will feel very tight; you should not be able to bend at all at your torso. However, it should not be so tight that it is pinching or restricting your breathing at all. When fully fastened, it should be very flattering for your figure; as mentioned above, there should be no "spillover," which would indicate that the waist trainer is too small. Never try to force the clasps! If you do, they may break. You shouldn't have to yank on the garment in order to get it to fit.
How to fasten a hook-and-eye cincher:
Start at the bottom of the garment, pulling together the hook and eye at the narrowest part of your waist. Use the loosest setting.

Work your way up the garment, fastening from bottom to top, always at the narrowest part of your waist.

Pull the garment down over your abdomen as you fasten it.

By the time it is all fastened your waist trainer will be very snug! But it shouldn't pinch or cause pain. 
How to put on a steel-boned corset:
Make sure the clasps on the front are fastened. Never yank on these, as you can cause damage.

Use a mirror or ask a friend to help as you tighten the laces in back.

Tighten the loops the same way you would tighten your shoelaces, only starting from the outside and working your way in. You will tie the laces at the middle, at the narrowest part of your waist.

A corset needs to be seasoned before you can tighten it all the way. For the first several times you wear it, fasten it snugly but not as tight as it will go. Wear it about an hour a day for a week or two until it molds to your shape. Then you can start pulling the laces as tight as you want. 
Following a Waist Training Regimen 
For the best results, we recommend wearing a waist trainer for 8–12 hours a day. However, you will have to work your way up to that goal, as there is a bit of an adjustment period. Here's how to get started:
Start by wearing your waist trainer for an hour or two a day. It should be on a looser setting when you start out.

Add a half hour to an hour of wear each day. If needed you can break it up into two sessions a day. In the beginning you can also skip a day if desired.

You should be up to at least eight hours a day after you have been wearing your waist trainer for about two weeks. From there on out you can adjust your plan according to your needs.

Remember that waist training works best with a healthy diet with nutritious whole foods, and regular exercise. You should especially be working on strengthening your core .

We highly recommend having at least two waist trainers to rotate through your wardrobe so that they can rest, be cleaned and perform optimally.

Be sure to take progress pictures and take your measurements so that you can see the progress you're making!

Once your waist trainer is starting to feel loose even when fastened to its tightest setting, it's time to order a smaller size! Celebrate!
Good luck! Be sure to bookmark this page or print it out, so you can easily refer back to these tips when you need them. And don't hesitate to contact us if you have any more questions about waist training.