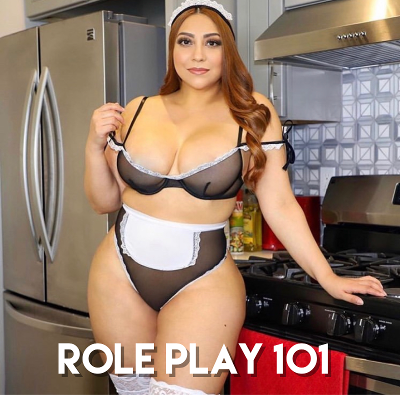 What's your deepest, darkest fantasy? In this article, we'll be discussing Sexual Roleplay, an activity that allows people to reproduce components of their innermost desires.
DUNGEONS & DRAGONS BUT MAKE IT SEXY.
When two or more individuals act out different roles, with the intention of bringing a sexual fantasy to life, they are participating in Sexual Roleplay (RP). Sexual roleplay can occur in both real-world and digital settings, giving participants the power and freedom to act out otherwise impossible sexual fantasies.
Roleplay can offer innumerable long-term benefits, helping people to overcome their sexual inhibitions, transform self-perception, explore new roles and sensations, and deepen partnered bonds. Despite its portrayal in popular media, participants are not required to go to great lengths to act out their roleplay fantasies. Roleplay scenes can range in extravagance, from a simple costume and pet name, to a more elaborate scene involving scripts, props, and key locations.
We've already discussed some of the incredible ways that roleplay scenes can enhance our sex lives. Let's take a closer look at some of the reasons that people love incorporating roleplay into their sexual routines:
Switch Sex
A Switch refers to a person who is able to shift between submissive and dominant roles during sex. Roleplay offers couples the opportunity to explore different roles and power dynamics that may have otherwise been unexplored.
Monogomish Sex
Roleplaying can be a compelling way to explore a monogamous couple's desires for multi-partner intimacy. Unlike polyamory, threesomes, cuckholding, swinging, and DIY couple's porn- roleplay offers partners the chance to experiment with the concept of additional partners, before integrating them into the experience. Take a look at our list of

Best Roleplay Ideas for Couples

to see some of our favorite monogomish duos.


Processing & Healing Sex
Did you know that roleplay is used to treat trauma on a biological level? It's true! Roleplay is used in many forms of sex therapy, CBT (Cognitive Behavioral) therapy, and exposure therapy to help people to act out their preferred behaviors, confront their fears, and recondition negative self-thinking. Roleplay can be a safe space for couples to navigate and overcome individual sexual stressors, together.
Fun & New Sex
Of course, the most intriguing reason to try roleplay sex, is that it gives us the opportunity to sample new sexual activities, personas, and fantasies. If you are looking to add excitement to your sex life, consider trying roleplay!
Setting Boundaries
Choosing a set of characters is just a precursor to setting up a successful roleplay scene. You'll want to have a lengthy conversation with your 'scene partner' about the context of your roleplay, and the circumstances that this places your characters in.
You may have agreed to participate in a teacher/student roleplay with your partner, but what is the nature of your relationship? Are you a failing student, or a teacher's pet? How does your status as a student impact your interaction with your teacher? Will this scene devolve into punishment, or is there a way for you to earn extra credit? These are just a few examples of how the context of your scene can influence the look and behaviors of your characters.
Completing a yes/no/maybe list before your roleplay can help you to determine what language (pet names/terms for body parts), activities (style of activities occurring), and aftercare (post-play needs) is required for both participants to enjoy themselves.
Creating Safe Words
Roleplay is an activity that allows people to step outside of their traditional roles and responsibilities, and take on entirely new personas. In order to prevent confusion, couples will use safe words to distinguish when an activity should cease, and when objection is just a component of the characters personality.
A safe word is a prearranged word or gesture that signifies the end of a sexual activity between a dominant and submissive couple. The stoplight system is a popular way to incorporate safe words into your experience, if you do not already have a safe word picked out. The stoplight system use the colors green, yellow, and red to signify if the activity is safe to continue, needs to slow down, or needs to discontinue.
Building Your Character
Costumes and props are an important component to many people's roleplay experiences, even for couple's who are not serious about regular roleplay scenes. Lingerie, costumes, and BDSM gear add realism to your roleplay fantasies, influencing the way that your character may walk, talk, and interact within the scene. Costumes set the tone for the scene, communicating details about the character's personality to your scene partner.
Is your character a dominatrix? A set of heels can help enhance your posture, allowing you to tower over your significant other. Playing the role of a princess? Look to layers of lace, that your partner will have to burrow through to pleasure you. There are lots of exciting ways for people to channel their sexual counterparts!
Scripting Your Roleplay Scene
People who are serious about roleplay, might consider scripting their own roleplay scenes. Creating roleplay scripts allows couples to pre-negotiate the terms of the fantasy they are acting out. Learn all about how to structure and sell your roleplay or BDSM scene in our blog, The Basics of Scene Scripting: A Guide to Mapping Your Own BDSM Sessions.
If you've ever pictured yourself participating in roleplay sex, than you've probably also envisioned the myriad of ways you can embarrass yourself in the process. The good news is: roleplay sex is just for fun. While you may have a deeper intention for exploring roleplay, it's important to remember that, at the end of the day, sex is just a way for us to experience pleasure and connect with others. If we can accomplish those two things (or even one of those things), I'd say we've achieved something!
If the feeling of dread is preventing you from exploring your roleplay fantasy, consider trying one of these four pre-roleplay hacks:
Prepare for Pleasure
The moments leading up to any new experience can feel daunting. One way that we can temper these anxieties, is to find small ways to dip our toes into the activity before it even begins. Some examples of this might extend to sexting while in character, watching films for inspiration, and getting dressed up in a costume.


Step Out of the Comfort Zone
Going out into public spaces, such as a restaurant or a bar, can alleviate some of the anxiety around roleplay. After all, your waiter isn't going to critique your performance, because they aren't aware a performance is being put on! Starting your scene in a public space, and working your way back to a private space, can be an erotic way to raise the stakes of your roleplay scene and get you more comfortable with your character.
Quick O
If you've ready our recap on Orgasms, then you might already know about the sexual response cycle. The sexual response cycle refers to the automatic functions that occur as our body prepares for, has, and recovers from sexual activity. Studies have shown that the part of the brain responsible for decision making (the lateral orbitofrontal cortex) is temporarily disabled during orgasm, which may explain why it's so easy to get lost in the heat of the moment! It may also provide us with some clues as to how we can overcome our fears with roleplaying in front of a partner… an orgasm is never a bad opening scene!
Dirty Talk
Dirty talk can be a great way to prepare for a roleplay experience, because it allows people to experiment with new ways to articulate their desires. Learn more about dirty talk, and how you can integrate it into your sex life by reading our blog, Voice Activated Genital's: A Beginner's Guide to Dirty Talk!
*Sex is most fun when we have the capacity to laugh at ourselves, and let's be honest: roleplay sex creates many opportunities for comedic relief. Laugh- move on- and discuss how you can improve on the experience next time.

Are you ready to bring your fantasy to life? We can't wait for you to put this knowledge into practice! If you're still stumped about where to begin, take a look at some of the best roleplay ideas for couples, listed below. This (non-exhaustive) list includes some of the most popular roleplay themes of 2022:
Doctor & Nurse / Nurse & Patient
Teacher & Student 
Boss & Secretary / Boss & Subordinate
House Guest & Maid 
Babysitter & Parent
Massage Therapist & Patient
Dancer & Client
Photographer & Model / Artist & Model
Director & Actress
Burglar & Victim
Cop & Criminal
Dominant & Submissive
Master & Slave
Guard & Inmate
Princess & Stable Boy / Princess & Knight
King & Concubine
Librarian & Reader
Bartender & Client
Nerd & Cheerleader
Fitness Instructor & Student
Human & Vampire
Human & Cyborg
Alien & Abductee
Kitten & Owner / Pup & Owner
Experienced & Inexperienced
Strangers in the Night
Best Friends
Mortal Enemies
Roommates